We started a series of meetings on the subject of Agrikultura, to be continued in September. The format will be that each guest (8 – 10 people) presents an image or brings an object to talk to for about 5 minutes. We will document the images and our discussion on the web site, and then collectively determine next research assignments.
Amanda McDonald Crowley

Amanda is working as a co-curator on the project. She has background in art + technology and a current research interest in art+food+tech
Amanda didn't bring an image, but did bring a big bunch of herbs from her community garden.
As it is early in the season, mostly there are only self seeding greens and herbs that she described as weeds: arugula and mint for the salads we ate; and lemonbalm for tea.
Amanda spoke to her interest in the number of artist who are engaging with art + agriculture and urban farming, and how artists can actively intervene in the debate to change food systems and food policy.
http://publicartaction.net
Mary Mattingly


Mary introduced herself as an artist who makes sculptural ecosystems in urban spaces, and her interest in making projects that engage directly with how we might imagine sustainable futures.
Mary spoke to her forthcoming project Swale, a floating food forest set to be deployed on NY waterways in summer 2016. Mary talked about the water as a commons, and is interested to identify food as a public commons. She spoke to the difference between food forests versus agriculture, where forests become self sustaining. She also spoke to the issues of regulations and permitting and of navigating beaurocracy to develop a project that is looking at public vs private policy in relation to food in cityscapes – in the fallout from our anthropogenic behaviour that this might be an expedited way to demonstrate behavioural change.
http://www.marymattingly.com/
Riitta Ikonen


Riitta (FI/ US) introduced herself as an artist with an interest in folklore, whose practice, deals with personification of nature and imagination, and hunting down people.
Riitta brought "Agnes" an image from her Eyes as Big as Plates series. She also donned a mushroom outfit, in which she performed/ presented.
http://www.riittaikonen.com/
Terike Haapoja


Terike (FI/US) introduced herself as an artist who explores, environmental issues and animal rights. She also spoke to the Finnish BioArt Society's field_notes: deep time residency in which she participated in 2014. She did not bring an image, but rather provided a link to a film:
Terike spoke to the politics of animal nature rights over human rights and postulated about whether trees and plats might also have legal standing. She questions how we might represent nature in the same what as corporations and such are at times given rights in the same way that humas are granted legal rights.
http://www.terikehaapoja.net
Stefani Bardin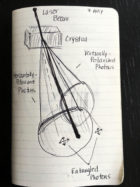 Stefani (US) is an artist who is interested in food systems, and is a serial collaborator who often works with scientists.
The phrase "spooky action at a distance" is how Einstein described quantum entanglement – the phenomenon that occurs when two particles remain connected, even over large distances, in such a way that actions performed on one particle have an effect on the other. The project plays off the notion of how some seemingly productive behaviors (industrial agriculture designed to feed a crazy growing population) are counter productive to the health of the soil, water and air we need to grow this very food. And how seemingly counter productive behaviors such as crop rotation (temporarily removing crops from a growing season), foraging for food from the land (when supermarkets are overflowing) actually robustly improve agricultural and environmental conditions.
http://www.stefanibardin.net/
Anna Kindvall
Christer Berg


Christer talked about their allotment (koloni). Perhaps unique to Sweden, the allotment includes a small house with kitchen and bathroom. This allows them, and thousands of others in their own koloni, to live for three or more months each summer, growing their own vegetables and fruits.
Johanna Kindvall


Johanna talked about the 'Field Kitchen'. From scout days to now. She will oversee a number of different projects working with this idea.
Marek Walczak


Marek talked about Hedgerows…. very English but now in diverse ecoverses.
Traditionally used for wind retention, they encourage local biodiversity, lessen pesticide use, can engage local communities and some small business use. They also paint the landscape with plants.