Ark of Seeds – Landscape of Resistance
Landscape of Resistance combines a sculpture, an oval land area, and a food offer happening during the opening day 1st of July.
A sculpture resembling a giant sprout is placed in a fallow area, where a mix of seeds from traditional cultivars and wild herbs has been previously planted. The spot becomes noticeable from its surrounding thanks to its biotic differentiation, marked in the long term by the surprising assemblages of species and new aesthetic formations, fading the demarcation line between sites for cultivars, urban landscape and wilderness.
Taking inspiration from G. Clément Derborence Island project, the artwork sets a miniature de-regulated area for bio-diversity serving as seed bank to allow more vulnerable species to thrive.
At the vernissage the artist offers to the public miniature edible sculptures filled with seeds and herbs. They have been designed in collaboration with chef de cuisine Lorenzo Eleuteri.
A process-based artwork started in 2007, Ark of Seeds is a series of wild-planted fields, as well as sculptural objects of varying dimension channeling collective management of natural resources in the form of a participatory art project. Similar to a leopard spot pattern, the series of miniature fallow areas offer shelter to biodiversity through art production and contemporary landscape design.
Landscape of Resistance is supported by Kone foundation, Svenska kulturfonden, Frame Contemporary Art Finland, Nordic Culture Point. The seeds are part of Maatiainen association collection.
Egle Oddo
Finland
Photograhs by Antti Hakuri and Heta Laitakari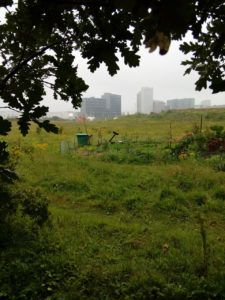 Join us for our final weekend of Agrikultura on the future English Park in Hyllie. On Saturday, in addition to tours at 13:00 and 15:00 several artists are giving final ...
More Information
We offered the edible sculptures while the rain was gently enhancing the smell of the land and of the plants. Taste, smell and touch are primary ways to communicate. Performative ...
More Information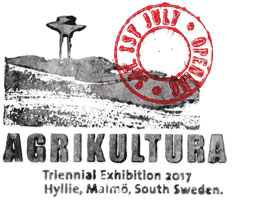 1 July, 2017
11:00 – 18:00 Kulturföreningen Triennal is delighted to announce that Agrikultura, an exhibition of public artworks, installations, meals, performances, urban interventions, mobile kitchens, and events to take ...
More Information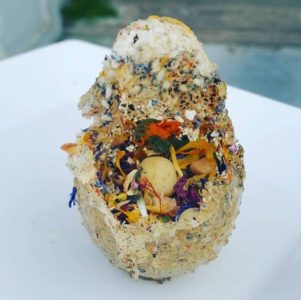 These are edible sculptures. The transparent egg contains a very special collection of seeds, flowers, herbs, fruits and spices. When you eat an egg, the thin transparent shell crashes and ...
More Information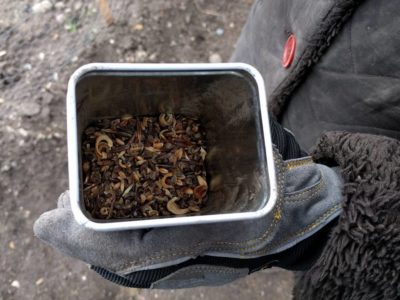 Egle came to Malmö for her 2nd time to work on the
Ark of Seeds
from 7 – 11 May, 2017. She sowed extra seeds, fertilized, and ...
More Information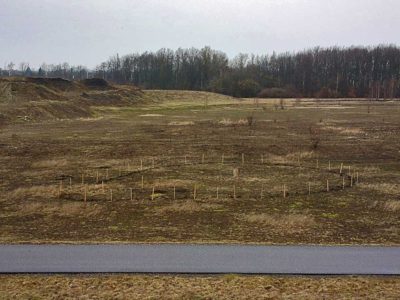 In early March 2017, Egle visited Hyllie to map out her oval for Ark of Seeds. She had the ground turned, and planted a range of seeds from wild species ...
More Information